LightRocket's unique visibility meter indicates how easy a file will be to find in your archive. Visibility is determined by how many recommended 'file info' fields are complete.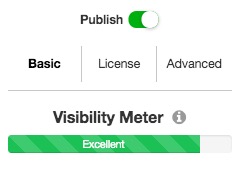 The more recommended fields you complete, the better your visibility indicator will be.
LightRocket recommends at least 5 file info fields be completed namely: captions, keywords, country/location, date, credit/copyright.